If you like adventure-filled fantasy stories and you're looking for heroes who do it all with their wits, you've wandered up the right forest path!  Just watch out for troll droppings on your way to the reading cave.  Some stains  don't come out in the wash.
Scroll down, and you can read free short stories featuring Malagach and Gortok, two extraordinary goblin brothers who aren't your average heroes.  They're… well… you'll get the idea when you read!
If you like what you see, you can purchase The Goblin Brothers Adventures Vol 1., a $0.99 ebook that includes the stories below and three more adventures. Read them on your Kindle, Nook, or other e-reader, or grab Amazon's free Kindle app to read them on your Mac or PC.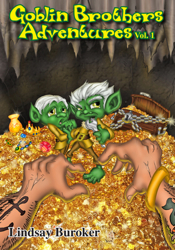 Buy at…
Amazon | B&N | Smashwords
Free short stories:
The Goblin Brothers and the Slave Trader's Offer
The pounding green feet of the goblin pack tore down the trail ahead of Malagach.  At the front raced tall and agile Zakrog.  An eagle feather–a trophy from the first event he had won–bounced from his white topknot.
Malagach had no delusions about catching him, or any of the other whelps in the lead pack, but if he could at least finish the race in a respectable position, maybe there would be less teasing.  Maybe Ma would not shake her head in her usual glum disappointment.  Maybe Chief Loggok would look upon him with a glimmer of respect… [Read the whole story!]
The Goblin Brothers and the Sword Master's Apprentice (new!)
"Help! Heeeeeelp!"
Malagach dropped his handful of salmonberries and perked his pointed green ears toward the shout. Tall brambles stretching across the gully blocked his view.
"It sounds like someone's in trouble," his brother, Gortok, said around a mouthful of berries. Pink juice ran down his chin, splotched his buckskin shirt, and even stained clumps of his rambunctious white hair… [Read on!]
The Goblin Brothers and the Pepper Slime Punch
A greenish-blue liquid simmered in a cauldron hanging above the largest fire pit in the village. A wind-up contraption fastened to the pot's lip propelled a long metal spoon in continuous circles. The breeze stirred the sweet scent of the punch, and it wafted amongst the mud-and-thatch huts, delighting the noses of nearby goblins.
Malagach stuffed his hands into the pockets of his buckskins to keep from slipping a green finger into the gurgling cauldron. Others had already tried–and failed–to steal a taste… [Read on!]
The Goblin Brothers and the Tempting Treasure
Malagach sprinted down the forest path with a bag of herbs clenched in his green hands.  Would he make it in time?  Maybe he shouldn't have stopped to change out of his fish-gut-spattered buckskins.
He raced around mushroom-covered stumps, over gnarled roots, and under grasping evergreen branches draped with moss.  Mud squished between his green toes, and brambles tugged at his clothes.  When Malagach burst out of the trees and onto the rutted road, he gasped with relief when… [Read on!]